High-tech Product:Montblanc's Augmented Paper
Montblanc celebrates the art of writing with a new product that merges technology and the charm of using pen and paper. Launched this week during Berlin's technology fair IFA, Montblanc Augmented Paper allows hand-written notes to be transferred onto digital devices thanks to a newly developed technology.
The kit includes a black leather case containing the electronic digitiser, a notebook with lined paper, USB cable to charge the device, three ballpoint refills and tweezers to exchange them. The Augmented Paper can be used with a writing instrument from the brand's StarWalker collection, a pen that has been specially fitted with custom-made technology to write with the new device. Text written by hand can be seamlessly transferred to any mobile device and edited or shared, with writing recognition available in 12 languages including English, German, Russian and Chinese. Notes are collected on an app (called the Montblanc Hub), which stores them digitally and that can also be used independently from the Augmented Paper.
The system doesn't need to be connected to a computer or other device to work. Simply start jotting and it can save up to 100 pages of notes internally. When it is time to empty the memory to start jotting again, there's an app – the Montblanc Hub app – that can be used simply for storing and cataloguing or for sharing notes with others.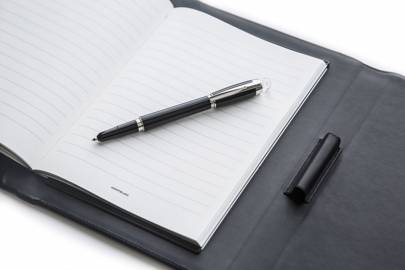 The batteries will last for up to eight hours and everything can be recharged via the bundled USB cables. The gadget will cost US$725 (RM2,953) when it goes on sale, exclusively at Harrods in London from mid-September. But for that fee, Montblanc is throwing in three ballpoint pen refills.
And for those that don't live in Knightsbridge that are taken by Montblanc's marriage of analogue luxury and digital practicality, the Augmented Paper will be going on sale globally via Montblanc boutiques and concessions, from October.
---